Understanding conscious and unconscious behaviour
Do you notice that your coachees sometimes find it difficult to take a critical look at themselves? Do they have the right image of themselves and their communication style? Sometimes this can be the reason why someone runs into certain issues at work or stagnates in his or her personal growth. So it's good to get to the root of the problem first. DISC is a handy tool that can help you with this!
DISC analyses provide insight into both conscious and unconscious behaviour. This helps you discover a person's qualities, but also their development points and communication style. With DISC, someone really gets to know themselves.
What you can achieve with DISC analysis, among other things:
✔ Get a good and complete picture of a person;
✔ Gain insight into qualities and development points;
✔ Discover someone's team role;
✔ Find out what motivates someone.
"Coaching within organisations is very personal. I coach people on personal change issues and work on development from within. Growth starts with insight into who you are as a person. DISC Boulevard's analyses provide this insight and I use them as a starting point in many coaching processes. I find DISC Boulevard's DISC analyses nice and practical without excess information."
– Emily, Nijmegen (NL)
As a coach, you want to ensure that individuals as well as teams and organisations move forward. DISC can help you as a coach do just that.
With DISC analyses, you can effectively support people in their development. You also clarify and understand someone's team role. In addition, you can adjust your behavioural style to the other person's preferred style at an individual level. This will create a deeper connection faster. Differentiate yourself from other coaches by working with DISC.
Our DISC analyses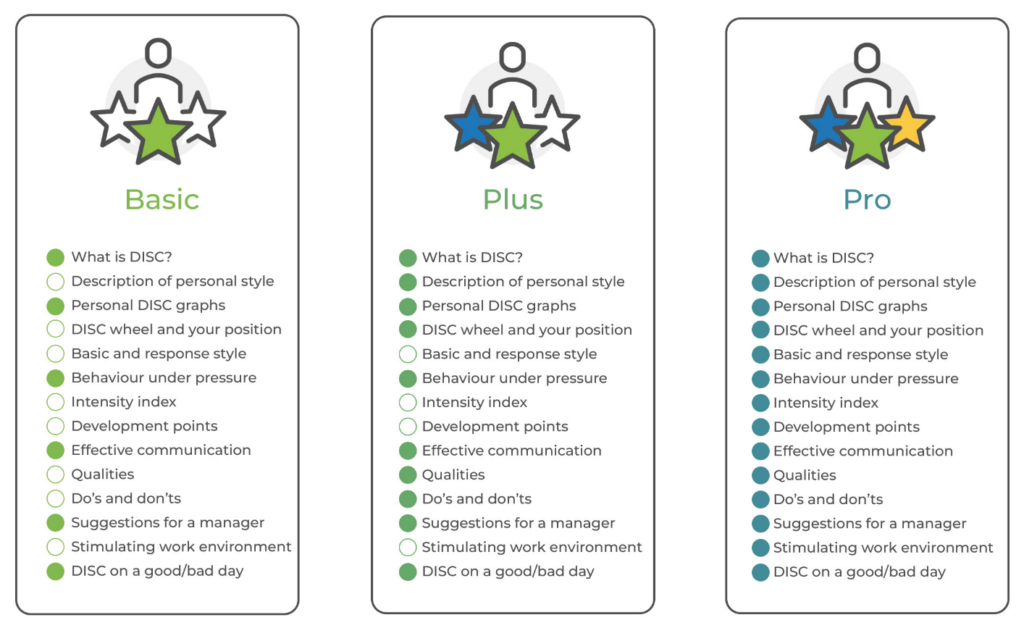 Curious about our reports? View the Pro example report here.
Manage everything in our portal, you can get started right away.
Accessible, positive and critical written analyses.
Spot-on analyses.
Cronbach's alpha: α 0,87.
Visually distinguished.
Affordable, but not compromised on quality.
Create an account too, order your DISC analyses and manage them independently.
You're not tied to anything.
Why DISC Boulevard?
At DISC Boulevard, you have everything in-house and can work independently. Partly because of this, we can keep our prices low. We work with a professional testing environment and clear reports; that's all you need, right?
Related to DISC coaching