As a professional, you are looking for good DISC behavioural analyses to use within your audience. Your target group might include, for example, participants in a training course, team coaching sessions or a team development programme. But also participants of a coaching or career programme that you provide. In addition, as a professional within recruitment & selection, you can use DISC as a tool. Of course, there are many more purposes for DISC analyses.
Choose from three variations
In our experience, within each of these processes, your specific needs for information regarding someone's behaviour differ. Therefore, we offer you a choice between three different variants of DISC analysis: Basic, Plus and Pro. In addition, we also offer a team report for team projects. All reports are also available in Dutch.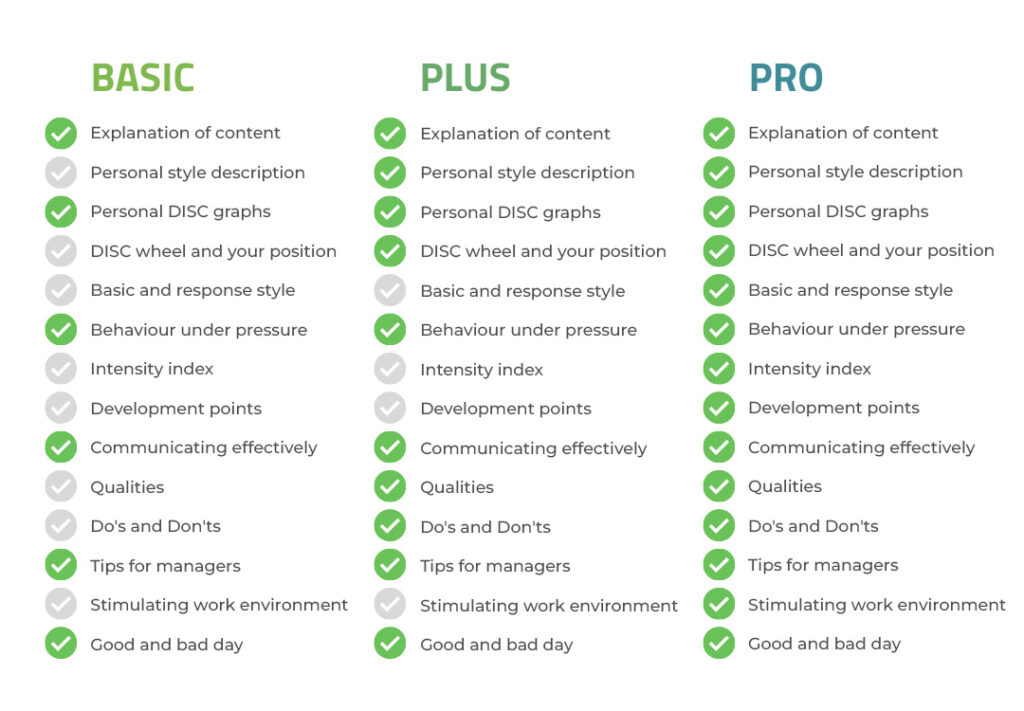 Are you curious about our DISC analyses? Then take a look at the example reports below.
Affordable DISC analyses
DISC Boulevard is for professionals who already have experience with DISC analyses, using them and are looking for a quality analyses at a competitive price. We do things differently from other DISC behavioural analysis providers. We deliver reliable and accurate DISC reports and we expect you to have the necessary prior knowledge. Just as you can get a mortgage from a bank without advice at a lower rate than with advice, you can also get a DISC analysis cheaply from us without advice. By offering DISC analyses in this way, we do not need to employ consultants or complete in-house staff; you will notice that in our rates.
DISC team report
You can also purchase the team report. This maps out the team's structure and role divisions. And perhaps more importantly; what does this say about mutual communication and/or cooperation?
Buy DISC analyses easily and quickly
We like to keep things simple and clear. That is why we have developed a portal where you can purchase, set out and view analyses independently.
Are you a DISC trainer, coach, teamcoach, HR-professional, recruiter or a career coach and do you understand DISC? Then create a personal account and get started right away!
What is the difference between the DISC variants?
The difference is mainly in the depth and level of information provided about participants' behavioural styles. Basic is a simple analysis, while Plus and Pro offer more detailed information. We also offer a team report for team projects.
Where can I find sample reports of the DISC analyses?
Sample reports of our DISC analyses, including Basic, Plus and Pro, are available on our website.  
What sets you apart from other DISC analysis providers?
What sets us apart from other providers is that we do not need to retain consultants or complete in-house staff. This allows us to keep our rates low and allows professionals who already have experience with DISC analysis, its deployment and who are looking for a quality analysis at a competitive price to come to us.