Daniel Ofman's core quadrant is a tool widely used for describing traits that suit a person. A core quadrant consists of four parts: core qualities, pitfalls, allergies and challenges. These are connected and opposite to each other. In this blog, we cover four components of the core quadrant and give some examples. We also establish a relationship between the core quadrant and DISC.
DISC is a model that gives you insight into your behaviour. It shows how you come across in communication, both verbal and non-verbal. Four behavioural styles are measured: dominance, influence, stability and conformism. Your personal DISC analysis will give you more insight into your qualities, pitfalls and how you come across to others, among other things. By linking your qualities and pitfalls to the core quadrant, you can also clearly identify your allergies and challenges. Very handy; you don't have to think up your own qualities and pitfalls, you can get these from your DISC analysis!
What are core qualities?
Core qualities, according to Daniel Ofman, are your core characteristics. They really come from your 'core' and are therefore more inborn than learned. They often form the basis of your personality.
Examples of core qualities per DISC behavioural style
| | | | |
| --- | --- | --- | --- |
| Dominant | Red | Influence | Yellow | Stability | Green | Conformism | Blue |
| Decisive | Positive | Patient | Perfectionist |
| Confident | Motivational | Modest | Always well prepared |
What are pitfalls
This is often another side of your core strength. Your strength becomes a weakness when you are not self-conscious about it and get caught up in it. This is then 'too much of a good thing'. Pitfalls emerge, for instance, when you are under (time) pressure, experiencing stress or when you cannot connect with your environment. Each behavioural style has different pitfalls that match the core qualities.
Examples of pitfalls per DISC behavioural style
| | | | |
| --- | --- | --- | --- |
| Dominant | Red | Influence | Yellow | Stability | Green | Conformism | Blue |
| Dramatic | Unrealistic | Passive | Fussy |
| May come across as arrogant | Theatrical | Submissive | Inflexible |
Do you want a complete list of possible pitfalls by DISC behavioural style? Then read the blog qualities and pitfalls.
Challenges
The opposite of someone's pitfall, is a challenge. Often the challenge of one DISC style, is a quality of the opposite DISC behavioural style.
Examples of challenges for each DISC style
| | | | |
| --- | --- | --- | --- |
| Dominant | Red | Influence| Yellow | Stability | Green | Conformism | Blue |
| Patient | Well prepared | Decisive | Motivational |
| Modest | Attentive | Confidant | Positive |
Allergies
An allergy is that which someone with a certain core quality experiences as troublesome. If someone's core quality is decisiveness, then wait-and-see behaviour constitutes an allergy. In addition, an allergy is an overshoot of someone's challenge. If your challenge to be patient is overshooting, this can lead to wait-and-see behaviour. Allergies can also be linked to DISC behavioural styles.
Examples of allergies by DISC style
| | | | |
| --- | --- | --- | --- |
| Dominant | Red | Influence | Yellow | Stability | Green | Conformism | Blue |
| Slow pace | Detailed work | Confrontation | Incompetence |
| Indecision | Pessimism | Unpredictability | Subjectivity |
Example of Daniel Ofman's core quadrant
A core quality is your decisiveness. You are energetic, full of zest for work and a real go-getter. That is what people can really appreciate about you. But sometimes, that goes a bit too far. You go on and on, at a faster pace than your colleagues. This can make you appear pushy to others.
It is therefore a challenge for you to be patient and not make both yourself and others feel rushed. You shouldn't go overboard here either; being too patient can come across as passive. Being passive and waiting is contrary to your quality. That is why this can be an allergy for you. You can't understand it. So everything is interconnected in Daniel Ofman's core quadrant.
Contrasting DISC styles
In the DISC model, there are adjacent but also opposite styles. The red D style is opposite the green S style. And the blue C style is opposite the yellow I style.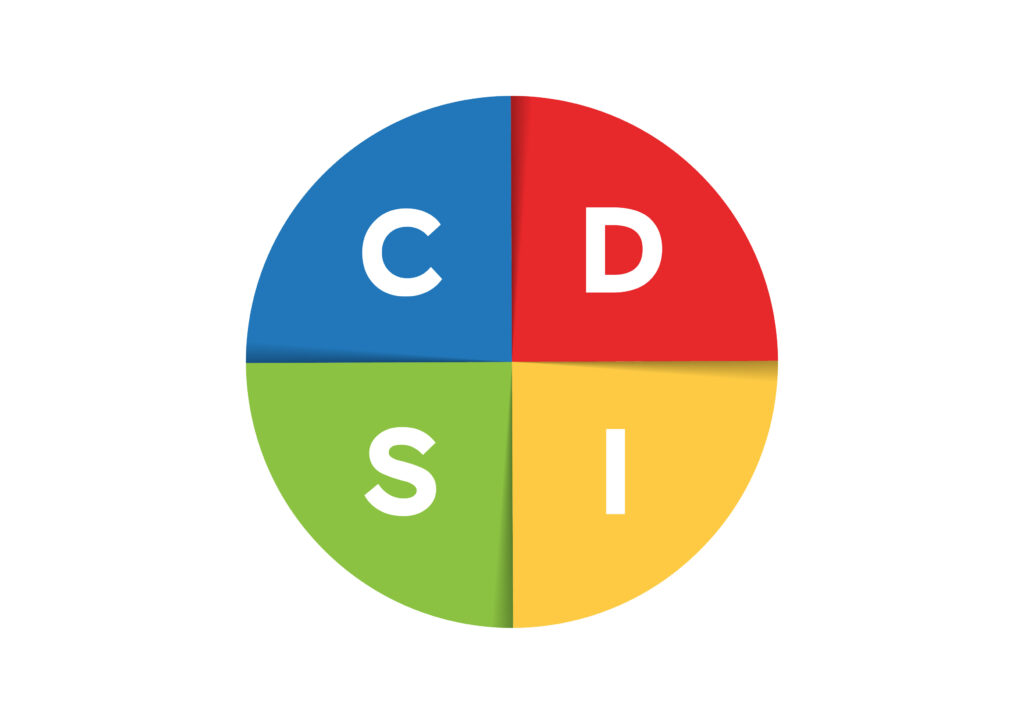 In many cases, you see that the opposite DISC styles actually have more trouble with each other's core qualities and especially each other's pitfalls. In fact, the opposite styles can learn a lot from each other and are an excellent asset when working together. You just have to be aware of it and be open to it!
For example:
Being determined is a characteristic that belongs to the red behavioural style Dominance. But being pushy is a characteristic of the red behavioural style when under pressure. Opposite to the red behavioural style is the green behavioural style Stability. A quality of the green behavioural style (and thus a challenge for the red behavioural style) is patience. However, this can also tip over into passive behaviour.
Getting started with the team
But what can you do with it? Do you want to work with your team to build a connection? In that case, schedule a team session. Everyone fills in a DISC analysis and a core quadrant. We have prepared a canvas for you to hand out to each team member. Are you curious about how to link with DISC? Then contact us and we will be happy to think along with you.
FAQs about the core quadrant
What is Daniel Ofman's core quadrant?
Daniel Ofman's core quadrant is a tool that provides insight into four personal traits: core qualities, pitfalls, challenges and allergies.
What are examples core qualities?
Core qualities are your positive core characteristics. Examples could be: inspirational, goal-orientated, quality-focused and caring.
What can you do with Daniel Ofman's core quadrant?
The core quadrant is a tool that can help you in your personal development. Completing a personal core quadrant helps with self-reflection.
How to create a personal core quadrant?
We have created a canvas that you can download for free. Having trouble filling it in? A DISC analysis can help you with this.