You have been asked at an external organisation to conduct a DISC training course, great! But how do you lift your training to the next level? And how do you make a link with DISC? We'll give you 5 tips below!
Define the goal together
Set clear goals for your DISC training. What do you want team members to learn or achieve? Define specific objectives, such as increasing understanding of behavioural styles, improving communication or strengthening team dynamics.
Tip: In the back of our DISC analysis and DISC team analysis there is an action plan you can use for this!
Use interactive activities
Make your DISC training engaging and interactive by using different activities. Consider role plays, group discussions, case studies or team exercises that engage team members and give them practical experience in applying the DISC model. We offer several training tools that you can use during a DISC session!
You can even find free DISC tools at the bottom of the page!
Personalise the training
Customise the DISC training to your team's specific needs and context. Identify the challenges or issues that the team is facing and make sure the training is relevant and valuable for their day-to-day work.
Create a safe environment
Provide a safe and confidential environment during training, where team members can openly share and learn. Encourage respect and empathy between team members so that everyone feels comfortable discussing their behavioural styles and communication preferences. This can be especially tricky for people with a high green behavioural style. Also give them space to come back to it later.
Provide follow-up and support
Make sure the DISC training does not end after the session, but offer follow-up opportunities and/or ongoing support. Encourage team members to put what they have learned into practice and create opportunities for further growth and development, such as regular check-ins, individual coaching or follow-up training.
Tip: with the DISC hand-outs, they can always look back at their qualities and pitfalls on a good and bad day. You can find these in our webshop.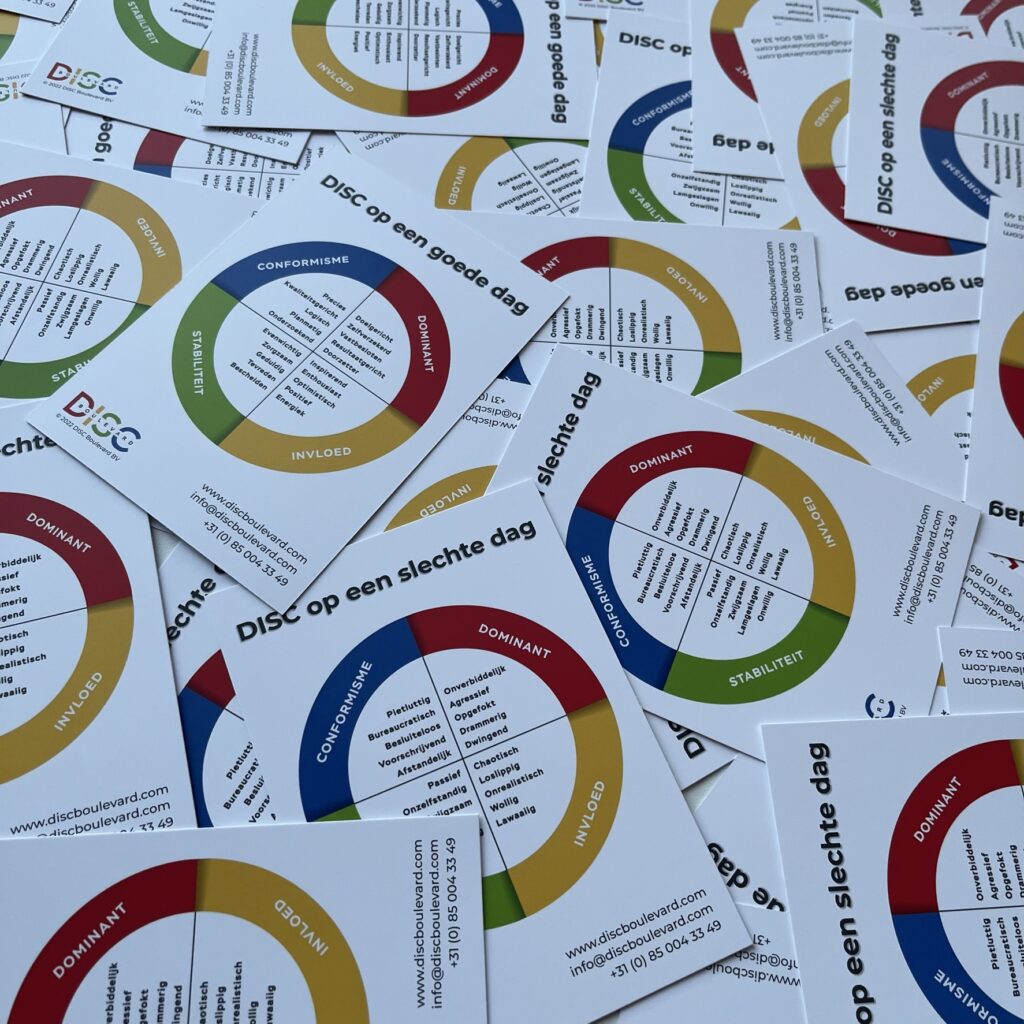 DISC training preparation
So extensive preparation is half the battle! Ask the team what they want to achieve and what are bottlenecks. Also consider the industry in which the team works. Adapt the aforementioned tips to your own situation and needs. This ensures that the training is tailored to the specific target group and objectives of the team.
Also check out the blog Core Quadrant by Daniel Ofman. At the bottom, you will find a free download to a canvas of the core quadrant. A convenient canvas you can use during your training!