Create awareness and self-understanding
Do your participants have an accurate picture of themselves and their communication style? Can they adapt their communication style to their conversation partner? Self-awareness is often the starting point of training. When pitfalls and qualities are understood, you can respond to them as a trainer.
DISC analyses give you insight into conscious and unconscious behaviour, which can offer extra depth. A handy and indispensable tool for various training courses.
What you can achieve with DISC analysis, among other things:
✔ Recognise your conversation partner's behavioural style;
✔ Adapt your communication to your conversation partner;
✔ Gain insight into each other's behavioural preferences;
✔ Understand the qualities and development points of the team;
✔ Learn how to give constructive feedback based on behavioural style.
"Ideally, DISC Boulevard offers exactly the analyses I need and I therefore pay nothing too much for service I don't really need."
– Jeroen, Den Haag (NL)
Using a DISC analysis can give your participants more depth. For example, you can teach sales training participants how to identify customer needs based on behavioural style and how to respond to them. In feedback training, you can teach your participants how to address each other constructively.
Besides sales and feedback training, DISC can also be used in more training such as time management, customer service, complaint handling, team building, networking and negotiating, among others.
Onze DISC analyses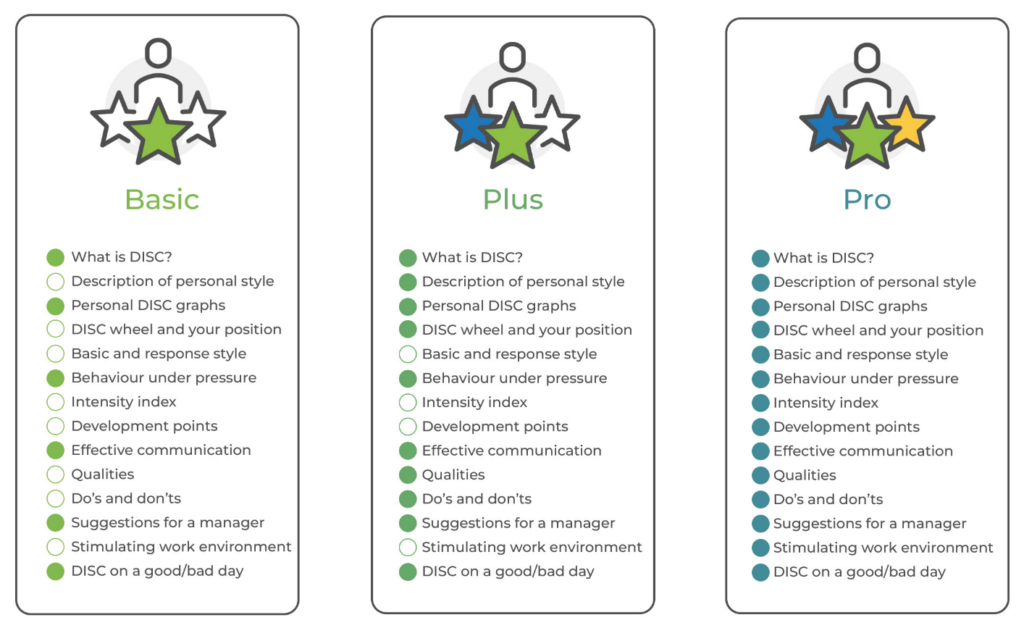 Curious about our reports? View the Pro example report here.
Manage everything on your own in our portal, you can get started right away.
Accessible and positively written critical analysis.
Spot-on analyses
Cronbach's alpha: α 0,87.
Visually distinguished.
Affordable, but not compromised on quality.
Create an account, order your DISC analyses and manage them independently.
You're not tied to anything!
Training with DISC
Want to know more about the employability and usefulness of DISC behavioural analysis for trainers?
Go to: